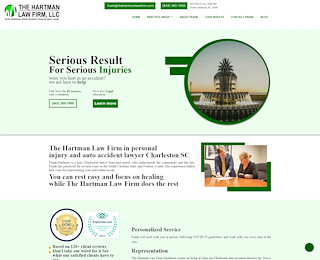 The Hartman Law Firm, LLC, offers exceptional legal counsel and helps auto accident victims during one of the most stressful and demanding phases of their lives. Searching the internet for the best auto accident attorneys near me can go on forever if you do not know what to look for in a lawyer. Frank Hartman is an exemplary lawyer with an impressive track record and exceptional negotiation skills.
What makes Frank Charleston's top-rated attorney?
Frank is a celebrated car accident attorney in South Carolina, member of the Charleston Bar Association, South Carolina Bar Association, and The South Carolina Association for Justice. With over 15 years of experience, he offers expert legal advice and unsurpassed representation to victims in a personal injury claim.
Our attorney's exceptional negotiation skills and analytical abilities allow him to deliver hefty compensation for his clients. Frank has won several million-dollar settlements for his clients hurt in a car wreck. This alone makes him one of the most competent and experienced car accident lawyers in Charleston.
Comparative negligence in South Carolina accident case
South Carolina abides by the modified comparative negligence rule, meaning you can still recover damages in a lawsuit if you share some responsibility for the car accident. However, the court may order an award after reducing your percentage of share of negligence from the total amount. If the jury determines your damages to a worth of $100,000 and thinks that you share 10% responsible for the collision, the total amount of your compensation will be $100,000 minus $10,000 (10% of the settlement/award).
However, if your level of fault exceeds that of the other driver or party, the court will bar you from recovering any damages. Even if your case does not make it to the court, the car insurance claims adjuster will evaluate your case keeping the comparative negligence rule in mind. As there is no empirical formula to allocate fault, it all boils down to your attorney's experience, expertise, and negotiation skills.
What to do after a car accident in South Carolina?
Car accident victims, in general, find themselves in shock immediately after an automobile crash. However, you must take a deep breath and pull yourself together to prevent losing your right to recover any compensation from the at-fault party. Here are a couple of things you must do after a car crash in South Carolina:
Call 911 if anyone involved in the accident suffers any injuries. Call the police and wait for a law enforcement officer to arrive at the accident scene.
Exchange contact information with the other party. Also, collect the witnesses' contact information as your personal injury lawyer may need it later.
You should contract an auto accident injury lawyer soon after an accident to receive guidance on what to do next.
Your never-ending search for the best auto accident attorneys near me ends here. Contact us at 843-300-7600 to book a consultation with Frank Hartman. The Hartman Law Firm, LLC, specializes in car accident cases and has delivered millions of dollars in settlements to victims. Entrust your legal battles to us today to recover a hefty compensation for your losses and injuries.